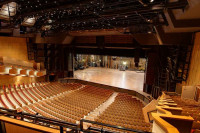 Built in 1959 as part of an international design competition, the Queen Elizabeth Theatre served as a prototype for more than a generation of theatre complexes across Canada and the U.S.
The architects' vision was to create a "strong, unitary building" that gave "maximum delight and spatial excitement". The finished building featured an aluminum-and-glass curtain wall wrapped around the lobby exterior, bolstered by concrete columns and shear walls; the lobby was made with B.C. fir panelling and terrazzo floors, while the auditorium was finished with Japanese Ash.
The impact of the theatre was immediate and profound: for the first time, major roadshows like My Fair Lady were able to stage productions in Vancouver, and shows staged across the U.S. border were compelled to extend their productions to Vancouver. Drama, opera, and the symphony were core activities, though the theatre also hosted events ranging from performances by internationally recognized artists to political meetings and holiday parties.
Today, the Queen Elizabeth Theatre is home to the Vancouver Opera, Ballet British Columbia, and larger touring shows, and is currently in the midst of a long-range strategy for restoration, rehabilitation, and renovation.