HISTORY
On September 13, 1903, the Vancouver Stage Employees Branch #1 of the Pacific Northwest Association of Theatrical Stage Employees was organized under the jurisdiction of the IATSE. At a meeting of this Association on April 10, 1904, its members made an application for a charter and forwarded it to New York, enclosing a fee of three dollars. On July 16, 1904, New York granted the charter. The original 14 signatories were: Wm. Dodd, H.W. Russell, A. McDonald, H. Taylor, Jas. J. Barr, J.A. Smith, F. Woodworth, C.M. Prately, F.K. Blackstone, G.G. Robertson, Wm. Seif, Wallace Coff, J. Hood, and H. Spear. (The last four men had to add their names to the charter at the following meeting as they were working during the original meeting.)

A member paid dues of twenty five cents per month in September 13, 1903, although the local increased dues to fifty cents a month only six months later. In the first half of the century, members worked in the Vancouver Opera House, Empress Theatre, and a number of movie and vaudeville houses: Strand, Capital, Orpheum, and Vogue. Of these theatres, only the Orpheum and Vogue still stand today.
Since 1904, IATSE Local 118 has been an integral part of Vancouver's performing arts almost since Vancouver's inception. Local 118 has established a tradition of excellence that it will continue as it enters its second century. With over 400 members, some are full-time employees of various venues, but most work on-call when work is available.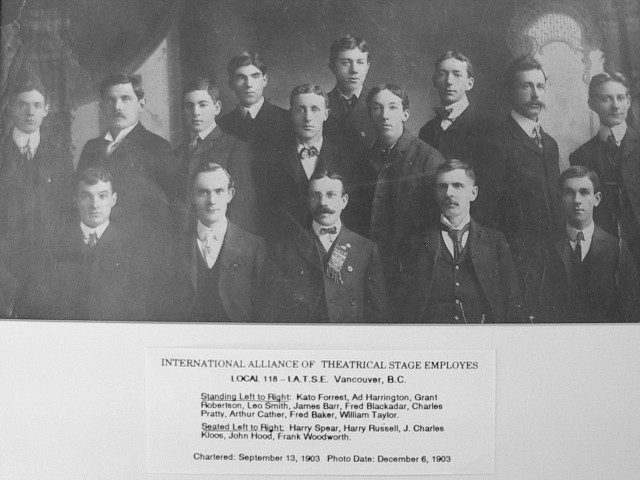 Local 118's employers are a who's who of the Vancouver Arts and Entertainment Scene. In addition to Vancouver's Civic Theatres (Queen Elizabeth, Playhouse, Orpheum, Annex), the Arts Club Theatre Company and the Cultch, we provide skilled technical labour to the Vancouver Opera, Vancouver Symphony, Ballet BC, Vancouver Recital Society, and supply local crews for scores of touring rock shows and theatrical productions at Vancouver theatres, Abbotsford Centre, the Pacific Coliseum, BC Place and elsewhere.
IATSE Local 118 was the technical labour supplier for Expo 86 and many aspects of the 2010-Olympics, and continues to be the technical labour supplier for the Pacific National Exhibition.