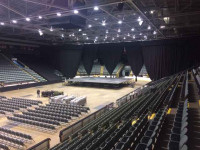 Owned by the City of Abbotsford, and managed by Spectra Venue Management, the Abbotsford Centre opened in 2009, and will celebrate its tenth anniversary in 2019. As the Fraser Valley's premier sports and entertainment venue, the Abbotsford Centre provides a first-class facility and has established itself as a gathering place for sports, entertainment, and community events.
Since opening, the Abbotsford Centre has hosted major concerts and special events including Joe Rogan, Cirque du Soleil, Eric Church, Carrie Underwood, Motley Crue, Florida Georgia Line, Jerry Seinfeld, Sesame Street, the World Famous Harlem Globetrotters, and the 2016 BC Summer Games Opening Ceremony to name a few.
The Abbotsford Centre hosted a total of 176,670 guests throughout 2017 which contributed $18.8 million dollars in economic activity in the community.
Often ranked as one of the top venues of its size in Canada by Venues Now Magazine (capacity under 10,000), the Abbotsford Centre finished the 2017 calendar year as one of the hot spots in the touring marketplace, and was listed 148th top venue in the world based on ticket sales as reported by Pollstar Magazine, and #1 in the Pacific Northwest (5,001 - 10,000 capacity).